Today..

...my boys played with eachother for 40 minutes this morning before coming to get me in my room. For the THIRD time this week. This is uncharted territory people. I have had a little person pulling on me every morning (before 7am usually) for the past 5 1/2 years! Children who entertain themselves/dress themselves/ feed themselves breakfast without needing mom? Holy Moley, it's strange. And nice. With a little side of STOP GROWING UP SO FAST!!!

...my boys were beating on each other. I sent them to their rooms, but then had the brilliant idea to put them in each other's rooms and make them clean up each other's messes. Why have I not thought of this before? I have two clean bedrooms and two happy boys right now. Hooray! Now I'm kind of hoping one of them starts misbehaving. I have some toilets that need to be scrubbed.

...I'm still reeling from watching Inception last night. My mind was officially blown. And my dreams were beyond wild last night.

...I finished up our annual family video. Here she is for your viewing pleasure.
(embedded video)

Untitled from Melissa Englebright on Vimeo.
After doing slideshows for both of my extended families for Christmas, I am going on an iMovie hiatus.
...I am trying not to cringe every time I look at Luke's hair. Our haircut yesterday was going along swimmingly, until he decided it would be fun to try and karate chop my hand every time I snipped at a lock of hair. His hair went from looking long and blonde...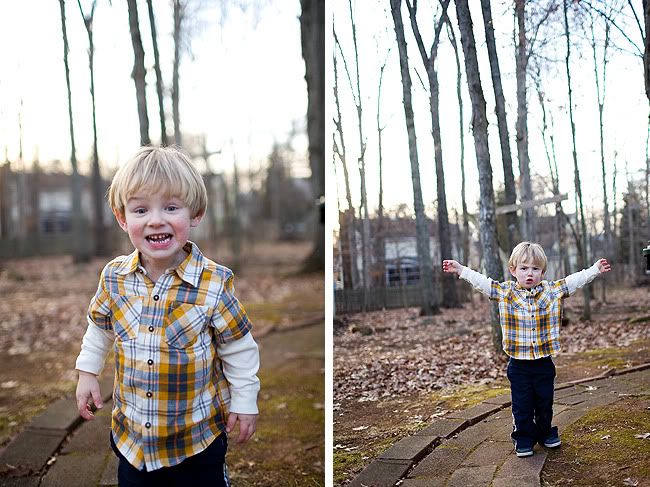 to a new bad haircut that looks short, dark(er) and oh so grown up. Parker even got upset and said that Luke doesn't even look like Luke anymore. After I heal from the emotional trauma I will post a picture of the new short do. Maybe. Or he might be wearing a hat for the next 3 months.
Happy 2011! I hope yours is off to a happy start!
Read more...